Fourth year is over, the kids are past their puberty struggles, and Hogwarts is crazier than ever. While school is normally a struggle, the departure of Mad Eye Moody (Brendan Gleeson), has brought forth a new Dark Arts teacher, Dolores Umbridge (Imelda Staunton), who will really give the kids something to whine about-- especially Harry Potter (Daniel Radcliffe).

Harry's long-term battle with Voldemort (Ralph Fiennes) had given him a near-expulsion over
the summer, and Harry sure as hell isn't willing to shut up about it. Nobody in town wants to believe that Voldemort is back, but a secret collective called The Order of the Phoenix is preparing for the worst. And as Ms Umbridge is teaching the kids absolutely nothing but what not to do, the kids decide they need a real teacher who has dealt with the dark arts-- Harry. So they decide to take matters into their own hands and create Dumbledore's Army.
But preparing for a sudden attack from a demonic army isn't easy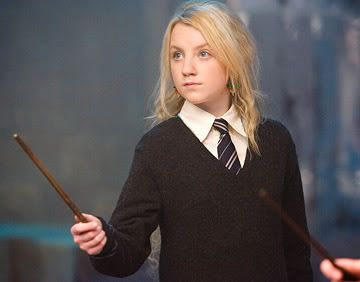 when you have a stubborn, skeptic bitch for a teacher. Umbridge is determined to take complete control of Hogwarts, and with her constant additions of hellish and unjust rules, the badass kids of Dumbledore's Army decide to practice in private in the Room of Requirement. And while they do so, Umbridge has her fascist goons spy on the kids, constantly adding more restrictions and bribes in order to catch these kids in the game. But once a certain someone of the army narcs them out, Dumbledore saves Harry's ass, and while Harry is safe, their secret completes Umbridge's goal for take-over of Hogwarts, which is beginning to look much more like Nazi Germany than modern England. Before Dumbledore's Army can save the world from treacherous darkness, they are given their most badass mission yet: rebel.
Staunton's performance as a heinous pink dictator is sure to get her places-- the woman is so convincing that I heard the audience cheer when the students set her off. And Evanna Lynch's breakthrough as the quiet and eccentric Luna Lovegood is so quirky that I found myself relating to her-- but it is no secret that the true stand-out here is Helena Bonham Carter as the wildly wicked Bellatrix Lestrange. Carter suits the roles so perfectly that nobody else could've even been in question for it.
But the best part of David Yates' film is that you will see Hogwarts at its darkest... and absolute prettiest. Yates does an incredible job of bringing everything together, and making the
necessary things stand out, and it truly shows in the cinematography. Lights are vivid pink and green, contrasted with sleek black. If there is any Harry Potter film to have undeniable style, it is
The Order of the Phoenix.
This style shows itself very well in Harry's dreams and in the final climactic battle scene. The sets are made to perfection is this film (especially Umbridge's fatally pink torture chamber), and the memories are so wonderfully compiled that it made me shiver a bit. Everything is put to perfection in this movie, which is not just substantial in plot, but total splendour for the eyes (they will eat it up, trust me).
And where to go from here? Yates has been confirmed to direct Harry Potter and the Half-Blood Prince, and in a prediction for its quality, if it's as promising as this film, bring it on.